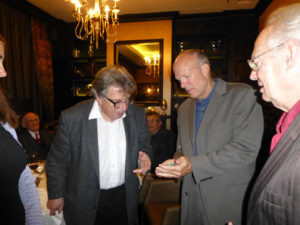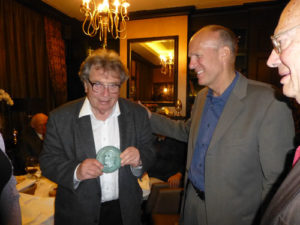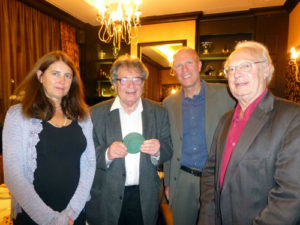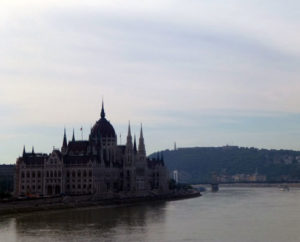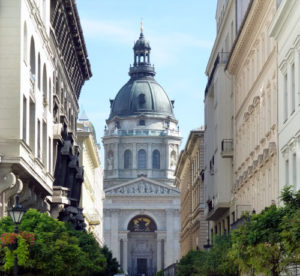 The recipient of the 2012 Dr. Elemer Hantos prize was Gyorgy Konrad. He was awarded his prize in Budapest by Stefan Messman, chairman of the award committee, and Randy Charles Epping, President of the Central Europe Foundation.
From 1990 to 1993 Konrad was president of the International PEN Club and from 1997 for many year president of the Akademie der Künste in Berlin. Through these activities he has contributed largely to the amelioration of East-West relations in Central and Eastern Europe. In addition Konrad was very active in the movement to change the communist regimes in Central and Eastern Europe during the 1970's and 1980's.
In 1977 he received a DAAD- scholarship [1] which enabled him to stay in West Berlin along with Iván Szelényi. He wrote The Intellectual on the Road to Class Power with Szelényi. In 1987 and 1988 he taught world literature in Colorado College in Colorado Springs.
In 1988 he was the founder member of the Alliance of Free Democrats (SZDSZ), his name was on the ballots in the following elections of 1990. In July 2009 after Attila Retkes was elected president of SZDSZ he left the party with several founding members.
In 1990 he was elected president of the International PEN Club, serving until 1993, and in 1997 he was the first non-German to become president of the Akademie der Künste in Berlin.
He has published a number of essays on politics, literature and sociology, as well as fiction. One of Konrád's most significant novels is The Case Worker, a bleak portrait of human suffering in modern urban industrial society, written from the perspective of a social services functionary. A Feast in the Garden and The Stone Dial are the first two parts of a semi-autobiographical fictional trilogy.
In 1985 he received the Prix européen de l'essai Charles Veillon for Antipolitik. Mitteleuropäische Meditationen.
In 2001 he received the Charlemagne Award of the city of Aachen.
In 2003 he was awarded an honorary doctorate from the University of Novi Sad.
In 2007 Konrád won the National Jewish Book Award in the Biography, Autobiography & Memoir category, for A Guest in my Own Country: A Hungarian Life.