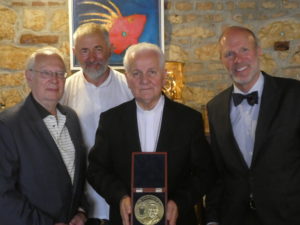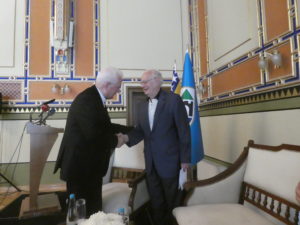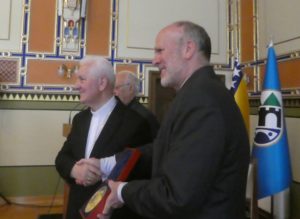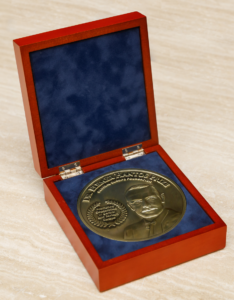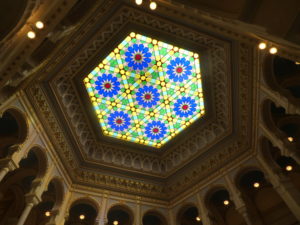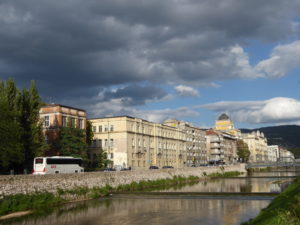 The recipient of the 2018 Dr. Elemer Hantos prize was Bishop Franjo Komarica. He was awarded his prize in Sarajevo, Bosnia-Herzegovina by Stefan Messman, chairman of the award committee, and Randy Charles Epping, President of the Central Europe Foundation.
Dr. Komarica, Bishop of the city of Banja Luka, has worked tirelessly to preserve peace in Bosnia Herzegovina. When war broke out in the former Yugoslavia in 1992, he tried to restore peace, and after the end of the war, he fought for the return of all displaced people to their homes and tirelessly engaged in providing humanitarian aid to all citizens. During the war, Msgr. Komarica provided refuge to many Muslim, Orthodox and Catholic families.
Msgr. Komarica has expressed his opinion about the coexistence of Bosnians, Croats and Serbs in Bosnia-Herzegovina as follows:
"A miserable man, a man of bad intention, who is a slave of smallness, can say that people here cannot live together. We are not so miserable and primitive to be like that. If people were allowed to find coexistence, they found it. When there was a mischief, they could manage it, and they succeeded. We have to do some straight talking. The crimes were happening. The main culprits were not indicted and convicted, but only the contractors. It's manipulation with the truth. God created us - like drops from the same source. We all call upon the same God who created all of us. God wants us to live together. That's why I can not accept the gods who say we can not."
In addition to the Dr. Elemer Hantos Prize, Msgr. Komarica has received the following prizes:
- Robert Schuman Medal (1997),
- Laureates of the Europe prize (2002),
- Franz Werfel Human Rights Award (2005).
More information can be found at: https://en.wikipedia.org/wiki/Franjo_Komarica